Melissa
Founder of the "Run, Heifer, Run!" organization.
Judy
My story is not nearly as exciting or dramatic as yours, but it has definitely changed my life. I'm not even sure where it really starts.
As a teen, I was obsessed with exercise and diet. Not in a healthy way. I pretty much starved myself through high school. I got married at 21, started having babies at 23. I totally let myself go. No exercise, no diet, nothing. I worked a corporate job and was completely sedentary.
When I was pregnant with baby number 4, I had recently started my photography business. It finally got me out of my chair. Photographing little children is fairly active work. Without trying, I only gained 12 pounds during the pregnancy and lost 25 when I delivered. That was the kick start to a healthy lifestyle. I dieted strictly that year. I started walking regularly. I lost about 40 pounds.
When my baby was about 9 months old I discovered running. I pushed myself literally to the point of vomiting until I could run 3 miles without stopping. I ran until I was 6 months pregnant with my fifth (!) child. Two weeks after she was born I was back at it. Slowly, I increased my mileage until I fell in love with running.
At this point, I was no longer dieting. I had adopted a healthy lifestyle, and between that and the running, I could keep the weight off. At one point I decided that I wanted to lose a bit more weight, so I started using MyFitnessPal to track my food. I lost an additional 10 pounds and was really thin for the first time in my life. But, I couldn't maintain that happily. It was a struggle and eventually I decided it wasn't worth it. So I'm back to my 40 pound weight loss. I went from a size 16 to a size 4 to a 6. As much as I'd love to be a 4 its just too difficult to maintain.
I eat healthily about 80% of the time and I run approximately 40 miles a week. Running is a huge part of my life and I can't imagine ever giving that up. Especially since I can eat nearly as much as I want to as long as I run. Oh, I'm 42 years old.
Attached is a photo at my niece's wedding last month. I'm not a dress up girl, so when I do dress up I shock people. In a good way.
Here's one of me at my thinnest. Maybe one day I'll figure out a way to get there again.
And a pic of my whole gang. My kids are 19, 18, 15, 8, 6.
I've attached a before and after. Can't find any other "before" pics on this computer. Thank God.
Bob
The left was taken last summer at a farm / produce store. The right was taken about a month or so ago. My heaviest was 388 in 2011. My last weigh in was 250, last week. Up until three weeks ago I have not stepped foot in a gym since high school (25 yrs ago) my fat is now turning to muscle and I feel 200% more energetic and productive than I ever have.
I decided about eighteenth month's ago that I was tired of being obese and people staring and laughing at me like I was a freakin' circus freak. I gave up carbs, processed foods, fried foods and went from probably 5000 calories a day to 1600 to 1800 a day now. I was so complacent with being morbidly obese that I thought it was just meant to be.
I decided to do this for me! Not my wife, deceased mom, Facebook notoriety, because my Dr. has been telling me to, but for once in my life, me! I'm so glad I did. I want to help or educate any and everyone that will listen! I can do small things now that skinny people will never understand, like fit in restaurant booth, kneel at church without my fat ass half off the seat and half on, fit in a movie theater seat without spilling over both sides!
I can't wait to sit in an airplane seat or a roller coaster! This is definitely a if I can do it anybody could, story! I figure another forty pounds and I probably bought myself an additional twenty years of quality life ! Thank you for letting me share my success story on my lifestyle change! No such word as diet, people! Like an addiction, its a lifestyle change and lifelong battle!
Kristin
Hi, my name is Kristin and I'm a Heifer.
I wasn't born a Heifer and I'm not always a Heifer. I like to take these roller coaster Heifer rides and have been on several throughout my life. My first Heifer ride was when I was about nine years old, again in my 20s with my firstborn calf, after my third calf, and I'm currently on another Heifer ride now. (Note: Heifer ride is an analogous term for getting fat. But y'all are smart. I'm stating this just in case.)
I know, I know, I know. Frequent Heifer rides are NOT good for your health: wears on your heart, your arteries, your back. Lawdy lawdy, the back. Did you know that most back problems are caused by inactivity and sitting at your desk? This next generation of Millenials is going to have a LOT of issues with humpbacks from staring down at their phones too much…but I digress.
I also know why I end up on Heifer rides. I lack fuckus. Diagnosed with ADD in my late 30s, I suddenly understood why I always had such a hard time sticking with ANYTHING and why new diets and workouts were SO AWESOME! South Beach, Atkins, Paleo, Four Hour Body – I became fluent in Dietese. Running, crossfit, hot yoga, Insanity, Tae-Bo (admit it – you did it too) – I was also willing to try anything. Shiny and new, I was all in until I wasn't. I lacked the fuckus and longevity needed for long-term success. Lose 40 pounds eating no carbs and suddenly I have to eat an entire cake. By myself. In three days. So I really would get to a point where I didn't give a f*ck anymore either. BTW, I cannot take credit for fuckus. Check out the Delicate Flower community on FB – Christine is freaking hilarious.
But I can take credit for getting to a point where I'm sick of the lack of balance. I can't do all or nothing. I can't change every single bad habit overnight and expect success. This is where I'm at right now – restoring balance to my universe. After a 20 pound weight gain in a year, I discovered an orange-sized, benign fibroid tumor in my uterus that was wreaking havoc on my hormones. One hysterectomy down, I've been getting back on the path to HEALTH. Eating good carbs when I want. Having a little treat now and then. Getting plenty of fruits and vegetables. Making sure I have adequate protein to help with my lack of fuckus. Getting out and moooooving. (See how I did that?)
What's my point? I know I'm not alone. YOU'RE not alone. We need to help each other, not body shame and ridicule. I admire those that have the support and resources to hit the gym for 60 minutes every day – I am not one of those people and I accept that as part of this phase of my life. So I work with what I've got and I let my ability to be distracted by shiny things get me out and do something different every day. Keep on keeping on Heifers.
(Three pics attached from various stages over the last 10 years)
Erin
My Fitness Story: I can safely say that for a good chunk of my life (let's say 21 years) I have never ever EVER been considered an athletic person of any sort. Except for a spout of volleyball in middle school/freshman year of high school and musical theater, I was not very active. In high school I was diagnosed with hypothyroidism/Hashimoto's disease and I can safely say I used that as my crutch. I had a very defeated attitude and it felt like although I had been trying to diet since elementary school (ya, you read that correctly), I just was always going to be fat.
This was my mentality until I got accepted into UW-Madison's geological engineering program (I'm a nerd) and decided that if I'm going to a new school, I'm going to be a new me! At the same time, my mother (recently divorced at the time) had joined the local gym, lost weight, and gotten herself healthy. She generously offered to pay for half of my membership in order to have a new workout buddy (she's amazing). With a lot of slow progress, I worked my way from strictly using the elliptical to running my first mile.
As time went on, I increased my mileage, pumped some iron, and was more confident in my athleticism. In what seemed like a few months, I had gone from a little over 200lbs to 160 lbs. During my college career I competed in a 5K mud run, a few 5K races, and my first half marathon! By the time I graduated college, I was in the BEST SHAPE OF MY LIFE. I had a flexible schedule that allowed plenty of time to train, even though my classes were challenging.
Then after graduation, I joined the working force and it all went downhill. As an environmental scientist, I am oftentimes doing field work and traveling. With traveling and long hours comes the convenient (often times junk) food. Within two years of my big-girl job, I had gained ALL of my weight back. After some time of depression and a defeated attitude, an old high school friend of mine shared something called the "Whole30" on her blog.
After researching and buying the books, I decided to do it! I was so tired of counting calories and never really felt comfortable with Frankenstein/diet foods, that it seemed like the perfect program for me to kick some nasty eating habits to the curb! I started at the end of April 2016 and after three rounds of the program I am 30 lbs lighter, down a couple skirt sizes, and am training for my second half marathon! My plan is to continue eating a paleo diet (I found I had a sensitivity to a few foods I was eating regularly) and use the Whole30 program as a restart as I see fit. My times so far during my half marathon training are ALREADY surpassing my first time! I'd like to think it has a lot to do with fueling my body correctly and listening to what it needs.
Maggie
Hi, i am Maggie but my heifer name is MOOOOGGIE!!! I am a Food Addict!!! The struggle is real. Every day I wake up thinking (obsessing) about food. I go to bed thinking about breakfast. I guess I have always struggled with food ever since I can remember. At my FATTEST I was nearly 300 pounds. Being 5 ft tall that was a lot of weight... a MD told me i was morbidly obese. So my story goes a lil somethin' like this..... I woke up oeday in 2005, looked in the mirror and was so digusted by my appearence I vomited. That day I made a lie choice to "get better." I started making life decisions from that moment on. Hired a personal trainer who was a freaking miracle worker!!! The day I met with her- seriously like changing. She told me to get real with myself, & had to love myself or I was going to fail with my weight issues. She then told me, go home look yourself in the mirror and say " I LOVE YOU". HAHAHA no biggie right?! She told me until I do that do not come back to her because she did not want to waste my time or money. It took me about a week to do this & to really get real with myself. The day I really looked at myself and said "I LOVE YOU"...was a breaking point. I mean I cried, hysterically. I needed a hose to get the blurbbering snot off of me. I then went to my trainer & she said, "Are you ready for a life change & not just weight loos?" I said , "yes!". During those next 26 months it was a crazy crazy crazy rollercoaster. I had to keep a food diary of EVERYTHING injested. Seriously... I was intaking about 6000 calories a day. So, we slowly made changes to my intake. #1- give up Dr.Pepper. That about caused a nervous breakdown!! #2- no fast food. #3- get your butt moving. I lost 30 lbs in 6 months. Next, I starting eating the samething every single day... YEP you herd me. THE SAME FOOD EVERY DAY!!! Chicken for breakfast with brown rice, Chicken (or other meat) for lunch, and a salad with some kind of protein for dinner. If I had to eat it was limited to berries, nuts, or protien smoothie. I went to the gym 6 days a week 4 of those days 2 times a day. I did this for 18 months. I fell off the food wagon a few times. Everyone wanted to know my secret for losing weight... Here it is---- I am an emotional eater. I had to find out what food I was eating, when, why & then deal with the issue/person linked to the junk food. For instance, the heavier the food- pizza I was empty/lonely. Crunchy food I was angry. It was sosososooo hard. However, it worked. I lost a lot of weight I got down to 126 lbs!!! In 2010 I met my goal weight, and my lifestyle change. I got a divorce, quit my job of 9 1/2 years, and packed my car up drove from to Seattle to Phoenix!!! All of that happened in 3 weeks. Today I weigh about 150. I would love to be 138 but I am working on some new issues. A little more about me- I am 42 soon 43, I love the color PINK, I married my high school sweetheart, have a son with high functioning autism, work in the medial field, and I am still a food addict. I am truly a HEIFER!!!
Kayloni
I have been a runner pretty much my entire life from running around chasing friends as a child then track and cross country in Junior High and Freshman year in High School. Big accomplishment was placing 77th in Varsity Girls Cross County in the State of Kansas as a Freshman. I didn't really run too much from 15 to 21 but picked back up the habit of running again after college. I love to participate in 5k, 10K, 15K, and half marathons. I completed my first half marathon in Feb 2016. I honestly never thought about running a half marathon and when a running buddy asked me to participate with her in one I went with the flow. I loved following the RunDisney Jeff Galloway training program and find that this is a very easy program to follow with a crazy schedule. Running is a great outlet for stress and I like to think it's my vent/therapy sessions with my girls. I can honestly say I was hoping as an adult Running would help with my midsection but at 21 I was at my lowest weight of my life and now at 27 at my heaviest.
Abbi
I will start by telling you that I don't enjoy talking about myself nor do I like having my photo taken. Growing up I was labeled "fat kid" and as I got older, I was "The Funny One" when I went out with my friends. At my peak, I was 190 lbs on a 5'1 frame. I ate what I wanted (anything breaded and fried and covered in Bleu Cheeze-no vegetables please!) and smoked a pack of cigarettes a day. I had my gall bladder removed at 27. I tried losing weight by not eating, diet pills, grapefruit, cabbage soup, you name it. Finally I discovered Weight Watchers and portion control. I dropped a total of 60 lbs. A few years later I told my husband I was going to quit smoking and join the gym. ( At the time, I didn't know he told himself I'd probably last about 6 months.) I took Chantix to quit smoking and luckily, it worked for me. I signed up to work with a trainer so I wouldn't look stupid or hurt myself at the gym (that happened later). So I joined the gym in late June at 145 lbs. and in April the following year I was down to 120 (A number on the scale I hadn't seen since 5th grade). For the first time in my life, I felt strong! I was up for anything. Then it happened. A friend of mine talked me into signing up for the AZ Rock and Roll Half Marathon telling me that her and her friends "run a little and walk a little". When push came to shove, I ran the whole thing. I'm not fast but ran the whole 13.1 miles and crossed the finish line a victor for all the girls out there think it's impossible. Since then I have completed half marathons, 5Ks, 10Ks, 15Ks and bike races. I'm a running guide for visually impaired runners with Achilles International and a running buddy for Girls on the Run. It's been 9 years since I've made that decision to change my life. I've suffered a few injuries as losing weight doesn't make you coordinated. Arthritis in both feet (complete with joint implant in my big toe), hips and back, and a broken arm (with plate and 4 screws to hold me together). At the age of 46 I'm just starting menopause and all the joy that goes along with it – most notably the weight gain rapidly declining hormone levels define your mood. I struggle every day with body image after years of hiding my body feeling ashamed of my appearance. I will never be satisfied with how I look, but I've at least stopped comparing myself to other people. I'm my own person on my own path. Some days I feel like I conquer the world and other days I can barely get out of bed. We all have challenges but we're here for each other, Dear Heiffers . Don't you forget it.
Lisa
I am a fitness professional and former dancer. Add that to the typical woman's body image issues perpetuated by airbrushed, photo shopped, impossible to achieve standards society gives us for beauty!!! In my younger years, it was common for me to take extreme measures to lose weight the week before a dance competition or performance, only to read critiques later that mentioned the size of my thighs instead of my flawless technique. You can imagine the issues this created for a teenage girl. Then I stumbled from dance into teaching what was then called "aerobics." Well, THAT didn't help at all! Some years later, I became a personal trainer as well. It's incredibly rewarding to help people get healthier!!! The down side of that is that only trainers who look the part are hired by clients. Who wants a chunky trainer? If they were a good trainer, they would be in shape, right? Soooo...you can imagine the pressure to look ripped when your livelihood depends on it! Emotionally and physically, that's a lot to live up to for anyone. I'm not quite five feet tall, so every pound shows. I'm also a single mom (not for much longer as I'm getting remarried in November!) raising two teenage girls...one with Aspergers and the other with Anxiety Disorder/ADHD. Not exactly the best setup for dedicated time for my own fitness or the time and energy good nutrition requires.
I'm asked daily to share my knowledge of health and nutrition and yet, I struggle just as much as every other heifer out there. I torture myself when trying on clothing, often want to cry when seeing certain body parts in the mirror and frequently put myself down because I can't live up to my own standards.
Run, heifer run provides support, accountability and encouragement to be the healthiest versions of ourselves while learning to love our bodies for the amazingness they are.
Ginger
Hey!! I'm Ginger a fun loving 35 year old who married her best friend nearly 16 years ago. My love for running was a complete accident! After one major surgery and gaining 100 lbs after marriage, (I mean what better way to celebrate life than fine dining and second suppers, right?!) I found myself really sick and sick of being sick. A handful of my dearest friends and my spouse had been running 5k's. I found myself yearning to attain such a goal. So I set out on the one mile loop 6 years ago. I cannot tell you how long it took me or how many days of training it took me, but I can tell you what I was wearing the day I completed one mile without stopping. I called my hubby on that cool morning with tears of joy rolling down my cheeks. "I really can do this!" I told him! I heard him smile on the other end of the phone, "well of course you can! " I ran several 5k's, 10k's and this past year we celebrated 15 years of marriage by running 13.1 miles! 100 lbs lighter, and much healthier and happier, this heifer signed up to run her first Marathon. I've got 7.5 weeks to go before running the Indy monumental! Training has been fun, crazy, hard, exhausting, short, long, way long, but attainable and exuberant all along the way. It's no longer about weight loss, but my love for pushing my body beyond what I thought ever possible.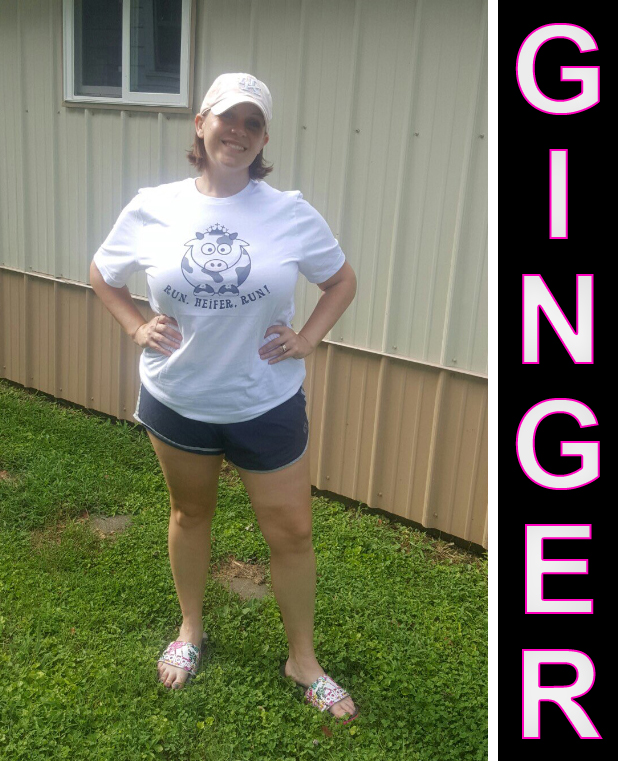 Dana
My name is Dana Allen. I live in southwest Texas. I'm a 30-something, wife, mom of 2 "darlingish" daughters, full-time employee, and part-time fitness and self-defense instructor. I've been a runner my entire life. Growing up I was a sprinter but as I got older I learned to appreciate the serenity that came with long distance running. In 2006 I stepped into the world of running marathons (yep…all 26.2 miles). I also stepped into an extra 15 pounds. I thought I could eat whatever I wanted since I was busting out 30 - 60 miles a week. Spring 2007 I saw a picture of myself and I didn't like what I saw so it was time to start a food journal. By the fall I'd hit my goal weight and picked up a few new hobbies on the way – Spinning, Yoga, and Pilates. Now it's 2016. I am a fitness instructor teaching kid's self-defense and indoor cycle. I'm really excited about this new journey and looking forward to increasing my instructing portfolio over the next few years. I am a Heifer because it's a great community of people pushing each other and supporting each other to be their best. Fitness and health at its purest level. No more bull…just "Run. Heifer. Run."
Randen
Hi I'm Randen. I am proud member of the this moovement to spread the word of love laughter and to help you learn how to suck it up. I am a fitness trainer. I teach bootcamp, HIT, TRX, Aqua and Spin. I workout to be a better version of myself almost every day. My family thinks I do it so I am not a bitch. I know what it is to be weak,to start getting fit and what joy it is to accomplish any feat you thought impossible. I am not skinny I am fit. I am healthy. Which means a lot to me as a cancer survivor. I believe when you put your first you will always be happier and a better version of yourself. Melissa is like a sister to me. I have known her my whole life. She was my very first best friend. This heifer cried when she ran with me. She begged and pleaded to make it stop but she pushed through and found her own strength. It is something all of us can do. I am proud to be a heifer. Won't you be one too.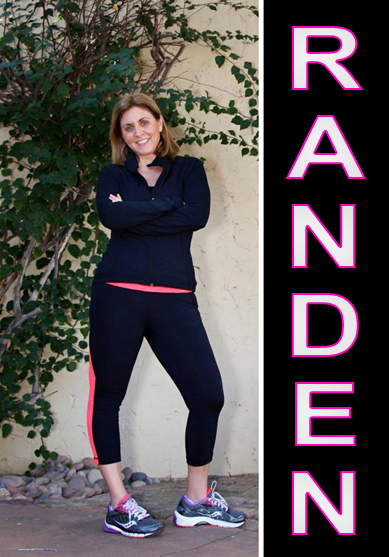 John
My name is John Young and I recently turned 50 years old. I teach high school math and coach swimming at Pingree School, a small prep school north of Boston. I am married to my wife Sue now for over 20 years and we have a 13 year old son named Owen. I was born in Canada where I lived until 1999, when my wife and I moved to Hong Kong to live for four years. We have been here in Massachusetts since 2003.
I was born with achondroplasia, the most common form of disproportionate short-stature. In simple terms, I am a dwarf or little-person (LP). Sometime in 2006, I was dealing with some major health issues related to being diagnosed with severe sleep-apnea. When things started looking better and I began to lose some considerate body weight, I decided to try to live a healthier lifestyle. While getting back to swimming, I started doing a little bit of cycling. I then watched a video of Dick and Rick Hoyt complete an Ironman triathlon and through their example of "YES YOU CAN", I decided to train and then complete my first triathlon. That was a sprint distance race in Lowell, MA in 2009.
Since that first race I have now completed more than 35 triathlons, which include 7 Half-Iron distance races. I have also completed more than 15 Half-marathons and 7 marathons. Out of the 7 marathons, it includes 2 NYC marathon finishes, and 3 Boston finishes (2x Boston qualifier)
The obvious challenges for me are my shorter limbs and therefore a smaller bike. I really don't view it as a challenge as I've been this way my entire life.
I registered for my first Ironman distance race, and on October 1st I intend to start and finish Ironman Maryland, thereby becoming the first person with dwarfism to complete an Ironman.
Randi
I don't have a spectacular story. I was skinny all through school had 2 kids, got fat, went through a divorce, got skinny, and then met my current husband. Became happy and got fat again. The extreme weight gain so fast was always partly because of my PCOS and Endometriosis. If my food intake was bad the weight came back with a vengeance. So, then came the high blood pressure, the pre-diabetic talk, the absolute miserable symptoms for shark week, etc. I finally said no more! Started walking on my lunch breaks, that turned into running, and I finally got my husband on board. We changed our entire eating habits, worked hard in the kitchen and that made us work hard outside the kitchen. Between the both of us we have lost over 80lbs. We both couldn't run a full mile a year ago. This year we have done 2 sprint triathlons, a half marathon, a 7 mile trail run, a few 5ks, and biked 145 miles across SC in 3 days on our bicycles. My body has changed in so many ways but most importantly, I've learned to love myself. Not give a damn what anyone else thinks and keep pushing to my goals.
Mary
Hi all…I'm Mary. Nothing particularly special about me. I've always been a small woman, tried to eat right, stay in shape. Got married 20 years ago and pregnant 2 years after that. Didn't have much trouble losing the weight, but we all know what happens as a child grows…..we tend to eat what they don't! Gained, lost, gained, lost, gained again…never too much, but enough that my wardrobe started to grow, size wise.

I've always been a happy, outgoing person…but my marriage was abit unsteady. Husband, sadly, very jealous of his own son. Had a huge impact on my happiness, my being, my person. As my son grew I was always stuck in the middle of any arguments the two of them had…one tugging one way, the other tugging the other way. Made me crazy!!!

I started to walk, a lot, just to get out of the house. One thing led to another and I did a mud run for fun. To show them I could. Did it again the following year and decided to put more effort into it. Hey, I can do this! Run from tree to tree..yep, I got this! One thing led to another and here I am, a runner! Husband and son, who is now 18, couldn't believe it, thought it was a fad. Numerous races later, where I placed in my age group…Woohoo! have shown them it wasn't. My husband still doesn't think races are necessary. Feels you run against yourself, doesn't get it at all. He is a weight lifter!!! He should get it!!! Slowly coming around, but still tells me if I ever do a Half, he's changing the locks…whatever. I know run to make me forget the nonsense between the two of them. To keep me sane. To be "free". To enjoy nature, to breathe.

My journey has taken 36 pounds off this body and it isn't going back! I'm happier, I'm healthier, I make good choices. The stress of my daily life gets trampled under my feet. I've lost the weight and gained an attitude of confidence and emotional stability, cause they were killing me! Now when the try to drag me into something, I drag out the running shoes. And…..
The races I do do….I do pretty well.
Zoe
This is my friend Zoe. She's very cool and she hates running BUT she loves a good heifer! So I wanted to share the pic she sent me of her in her brand new heifer shirt! Go, Zoe, Go! (not sure WHERE you're going since you don't run, haha, but you keep going with that smile and you'll get there in style!)